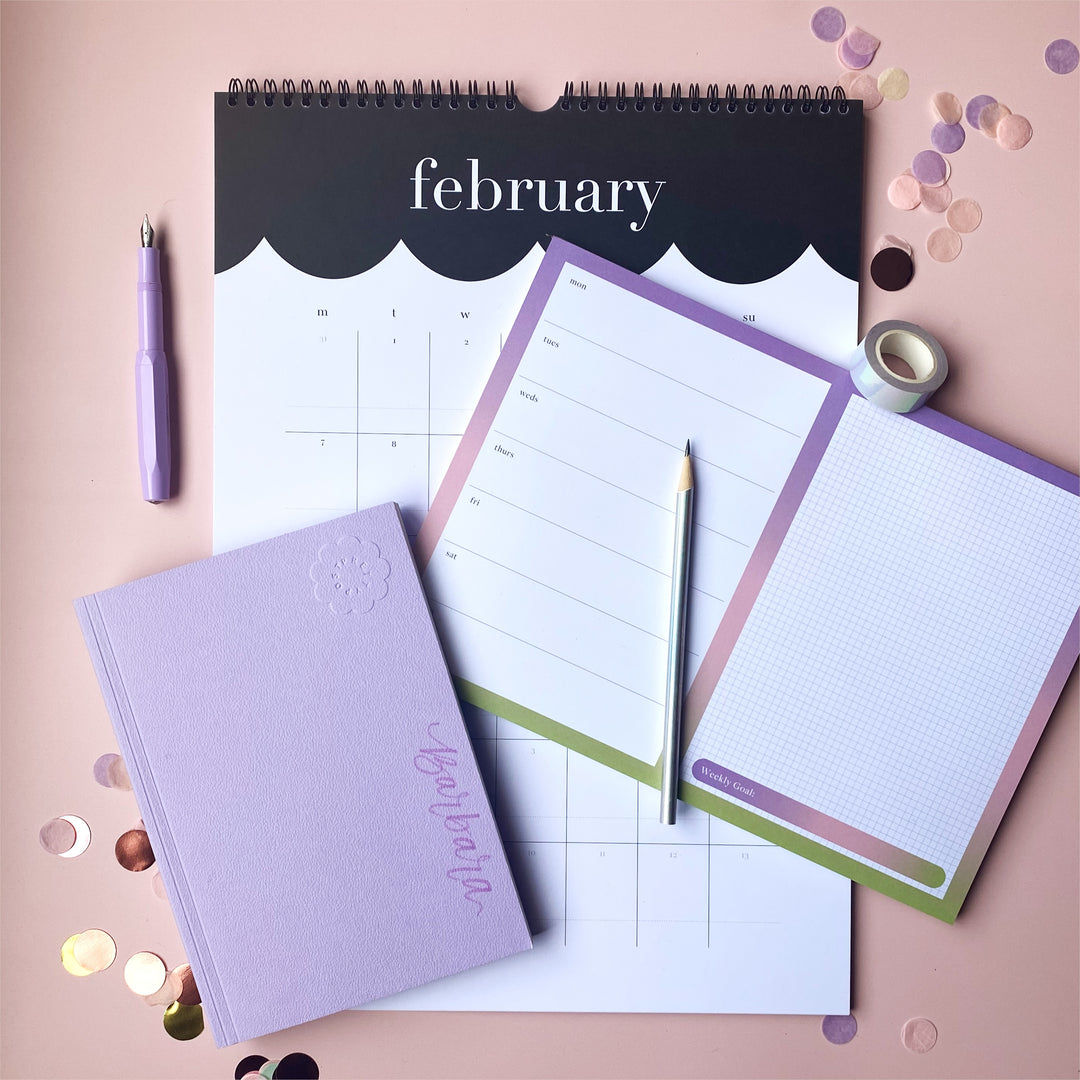 Posted on
---
It's no secret that writing things down and help you get organised, deal with daily overwhelm and stop that procrastination when you really really need to get something done. But sometimes knowing how to write it down is a bit of a mystery.
I find a three pronged attack - monthly, weekly and daily, can simplify this and really help you dial down on what needs to be done.
Monthly Planning
It's no surprise to anyone that I do this as an analogue system - a monthly wall planner, a weekly desk planner and daily list, but it might surprise you that I make use of an online calendar too.
I was 100% a handbag sized diary girl until I became a mum, had to juggle multiple people and businesses and that paper only wasn't going to cut it.
As a visual person the native calendar on a phone never worked for me, but I did finally find a calendar app that did work for my brain (iphone app here!).
This means I can always check on what's happening when I'm out and about as well as at my desk.
When planning ahead for the month however - I still need a traditional wall calendar or planner so I can visualise exactly how it looks. This is especially important for things like holidays, co-parenting and birthdays. 
I plan my month out at the start of every month and add to it as I go - using this monthly wall planner. The 'special line' is simple but an ingenious design extra that I find invaluable.
Weekly Planning 
Every Monday I sit down and do two things. My weekly accounts, and a plan for the week. Using my online calendar to note down anything important, after school clubs, birthdays and any meetings I already have booked - I can then see at a glance exactly how much I have going on. 
Being able to visually see my week in front of me is important for forward planning. Do I have a day out of the studio that I need to plan around? Is all my childcare covered? and so on.
It also shows me where I can put things from my to do list. Scheduling the things that are less urgent in to the rest of the week means they're far more likely to happen!
The Weekly Desk Pad has a traditional diary layout - with a week to view on the left, including a full weekend (very important!), and then space for notes on the right.
Daily Planning
If you're only going to do one of these, then this is the one. Starting your day off by getting it all out of your head is so vital.
I'm a big fan of a covey matrix - working out what is urgent and important and then scheduling in the rest - sorting out your do now's, do later's and things that you can delegate.
The daily notebook was designed specifically to help with this. Doing this every day help you with procrastination, overwhelm and tackling tasks.  It's the key to getting yourself organised every morning. 
Quick links
About us
Pretty Post is a registered trademark
VAT number 394290373